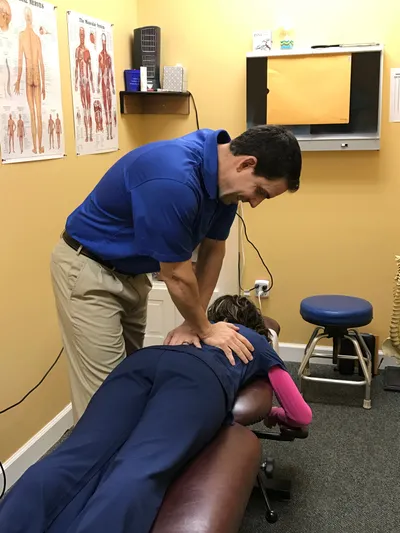 Dr. Glenn Geada, BS, DC
Dr. Glenn Geada is committed to helping his patients experience improved health and vitality. Dr. Geada received his Bachelors of Science degree in Neuroscience from the University of Pittsburgh. He then went on to receive his Doctor of Chiropractic degree as an honor graduate from Life University.Dr. Geada has continued his education by obtaining certification in Dry Needling from the American Dry Needling Institute.
Dr. Geada has served as a District Director of the South Carolina Chiropractic Association as well as a legislative committee member.
Dr. Geada has been practicing in the Lancaster area for 25+ years and enjoys participating in community events such as triathlons and 5k races. He is an advocate of community health and has served as a guest speaker for many preventative health lectures.
Currently Dr. Geada is pursuing his studies in Functional Medicine. Functional Medicine is patient centered-medical healing that is science based and allows the patient a natural way to become healthy. Instead of just treating the symptoms of a disease such as diabetes, hypertension, or fibromyalgia, this approach to health uses two scientifically grounded principles:
Add what is lacking in the body to nudge the body back to a state of optimal functioning.
Remove anything that impedes the body from moving toward this optimal state of health.
Functional Medicine is not new, it actually represents a return to the roots of modern scientific medicine. Sir William Osler, one of the first professors at John Hopkins School of Medicine and later its Physician-in Chief captured the above statement. "A good physician treats the disease, and excellent physician treats the patient who has the disease." Another important saying by Osler is, "If you listen carefully to the patient, they will tell you the diagnosis."
Functional Medicine encompasses all of the biophysical, biochemical, enzymatic, endocrine, immunological, and bioenergetics regulatory capacities of the body. Using this unique approach, Dr. Geada is able to help you to accelerate and/or maintain your journey to good health.